The number of artists who have are multi-finalists as of May 25, 2022.
First - here is the visualisation and that is followed by the table of finalists.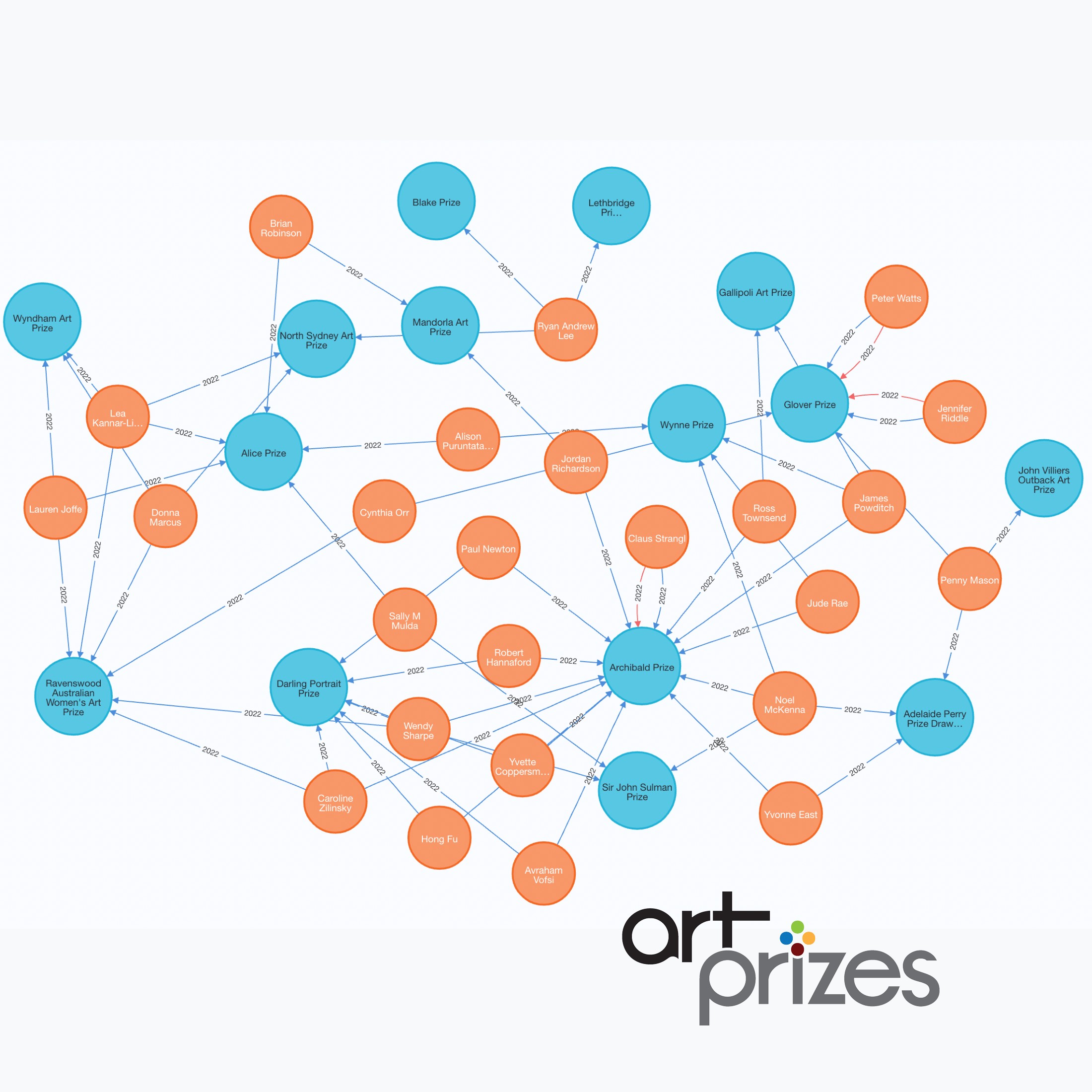 Brian Robinson, Kieren Karritpul and Alison Puruntatameri are the First Nations artists to have been in multiple finalists' exhibitions this year (based on the exhibitions we have followed).
| | | | | | |
| --- | --- | --- | --- | --- | --- |
| Artist | No.finals | Prize name | Finalist/Winner | Year | First Nations artist |
| Wendy Sharpe | 4 | Sir John Sulman Prize | FINALIST | 2022 | N |
| Wendy Sharpe | 4 | Ravenswood Australian Women's Art Prize | FINALIST | 2022 | N |
| Wendy Sharpe | 4 | Archibald Prize | FINALIST | 2022 | N |
| Wendy Sharpe | 4 | Darling Portrait Prize | FINALIST | 2022 | N |
| Ryan Andrew Lee | 4 | North Sydney Art Prize | FINALIST | 2022 | N |
| Ryan Andrew Lee | 4 | Waterhouse Natural Science Art Prize | FINALIST | 2022 | N |
| Ryan Andrew Lee | 4 | Blake Prize | FINALIST | 2022 | N |
| Ryan Andrew Lee | 4 | Lethbridge Landscape Prize | FINALIST | 2022 | N |
| Noel McKenna | 4 | Archibald Prize | FINALIST | 2022 | N |
| Noel McKenna | 4 | Wynne Prize | FINALIST | 2022 | N |
| Noel McKenna | 4 | Adelaide Perry Prize for Drawing | FINALIST | 2022 | N |
| Noel McKenna | 4 | Sir John Sulman Prize | FINALIST | 2022 | N |
| Lea Kannar-Lichtenberger | 4 | Ravenswood Australian Women's Art Prize | FINALIST | 2022 | N |
| Lea Kannar-Lichtenberger | 4 | North Sydney Art Prize | FINALIST | 2022 | N |
| Lea Kannar-Lichtenberger | 4 | Wyndham Art Prize | FINALIST | 2022 | N |
| Lea Kannar-Lichtenberger | 4 | Alice Prize | FINALIST | 2022 | N |
| Yvonne Boag | 3 | Muswellbrook Art Prize | FINALIST | 2022 | N |
| Yvonne Boag | 3 | Alice Prize | FINALIST | 2022 | N |
| Yvonne Boag | 3 | Adelaide Perry Prize for Drawing | FINALIST | 2022 | N |
| Penny Mason | 3 | John Villiers Outback Art Prize | FINALIST | 2022 | N |
| Penny Mason | 3 | Adelaide Perry Prize for Drawing | FINALIST | 2022 | N |
| Penny Mason | 3 | Glover Prize | FINALIST | 2022 | N |
| Naomi White | 3 | Ravenswood Australian Women's Art Prize | FINALIST | 2022 | N |
| Naomi White | 3 | Muswellbrook Art Prize | FINALIST | 2022 | N |
| Naomi White | 3 | Lethbridge Landscape Prize | FINALIST | 2022 | N |
| Lauren Joffe | 3 | Alice Prize | FINALIST | 2022 | N |
| Lauren Joffe | 3 | Wyndham Art Prize | FINALIST | 2022 | N |
| Lauren Joffe | 3 | Ravenswood Australian Women's Art Prize | FINALIST | 2022 | N |
| Jane Burton Taylor | 3 | Waterhouse Natural Science Art Prize | FINALIST | 2022 | N |
| Jane Burton Taylor | 3 | Alice Prize | FINALIST | 2022 | N |
| Jane Burton Taylor | 3 | North Sydney Art Prize | FINALIST | 2022 | N |
| James Powditch | 3 | Gallipoli Art Prize | FINALIST | 2022 | N |
| James Powditch | 3 | Wynne Prize | FINALIST | 2022 | N |
| James Powditch | 3 | Archibald Prize | FINALIST | 2022 | N |
| Giles Alexander | 3 | Mandorla Art Prize | FINALIST | 2022 | N |
| Giles Alexander | 3 | Waterhouse Natural Science Art Prize | FINALIST | 2022 | N |
| Giles Alexander | 3 | Alice Prize | FINALIST | 2022 | N |
| Geoff Harvey | 3 | Wynne Prize | FINALIST | 2022 | N |
| Geoff Harvey | 3 | Muswellbrook Art Prize | FINALIST | 2022 | N |
| Geoff Harvey | 3 | Gallipoli Art Prize | FINALIST | 2022 | N |
| Donna Marcus | 3 | North Sydney Art Prize | FINALIST | 2022 | N |
| Donna Marcus | 3 | Ravenswood Australian Women's Art Prize | FINALIST | 2022 | N |
| Donna Marcus | 3 | Wyndham Art Prize | FINALIST | 2022 | N |
| David Cossini | 3 | Percival Photographic Portrait Prize | WINNER | 2022 | N |
| David Cossini | 3 | Percival Photographic Portrait Prize | FINALIST | 2022 | N |
| David Cossini | 3 | Wyndham Art Prize | FINALIST | 2022 | N |
| Caroline Zilinsky | 3 | Ravenswood Australian Women's Art Prize | FINALIST | 2022 | N |
| Caroline Zilinsky | 3 | Darling Portrait Prize | FINALIST | 2022 | N |
| Caroline Zilinsky | 3 | Archibald Prize | FINALIST | 2022 | N |
| Brian Robinson | 3 | Telstra National Aboriginal & Torres Strait Islander Art Award | FINALIST | 2022 | Y |
| Brian Robinson | 3 | Mandorla Art Prize | FINALIST | 2022 | Y |
| Brian Robinson | 3 | Alice Prize | FINALIST | 2022 | Y |
| Alison Puruntatameri | 3 | Alice Prize | FINALIST | 2022 | Y |
| Alison Puruntatameri | 3 | Telstra National Aboriginal & Torres Strait Islander Art Award | FINALIST | 2022 | Y |
| Alison Puruntatameri | 3 | Wynne Prize | FINALIST | 2022 | Y |
| Yvonne East | 2 | Adelaide Perry Prize for Drawing | FINALIST | 2022 | N |
| Yvonne East | 2 | Archibald Prize | FINALIST | 2022 | N |
| Yvette Coppersmith | 2 | Archibald Prize | FINALIST | 2022 | N |
| Yvette Coppersmith | 2 | Darling Portrait Prize | FINALIST | 2022 | N |
| Tony Sowersby | 2 | Glover Prize | FINALIST | 2022 | N |
| Tony Sowersby | 2 | Darling Portrait Prize | FINALIST | 2022 | N |
| Ross Townsend | 2 | Archibald Prize | FINALIST | 2022 | N |
| Ross Townsend | 2 | Gallipoli Art Prize | FINALIST | 2022 | N |
| Peter Watts | 2 | Glover Prize | WINNER | 2022 | N |
| Peter Watts | 2 | Glover Prize | FINALIST | 2022 | N |
| Laura Wills | 2 | Heysen Prize | FINALIST | 2022 | N |
| Laura Wills | 2 | Waterhouse Natural Science Art Prize | FINALIST | 2022 | N |
| Kim Leutwyler | 2 | Archibald Prize | FINALIST | 2022 | N |
| Kim Leutwyler | 2 | Sir John Sulman Prize | FINALIST | 2022 | N |
| Kieren Karritpul | 2 | Telstra National Aboriginal & Torres Strait Islander Art Award | FINALIST | 2022 | Y |
| Kieren Karritpul | 2 | Alice Prize | FINALIST | 2022 | Y |
| Jude Rae | 2 | Wynne Prize | FINALIST | 2022 | N |
| Jude Rae | 2 | Archibald Prize | FINALIST | 2022 | N |
| Jo Chew | 2 | the churchie national emerging art prize | FINALIST | 2022 | N |
| Jo Chew | 2 | Glover Prize | FINALIST | 2022 | N |
| Jennifer Riddle | 2 | Glover Prize | WINNER | 2022 | N |
| Jennifer Riddle | 2 | Glover Prize | FINALIST | 2022 | N |
| Jane Skeer | 2 | Heysen Prize | FINALIST | 2022 | N |
| Jane Skeer | 2 | Waterhouse Natural Science Art Prize | FINALIST | 2022 | N |
| Harriet Geater-Johnson | 2 | North Sydney Art Prize | FINALIST | 2022 | N |
| Harriet Geater-Johnson | 2 | Waterhouse Natural Science Art Prize | FINALIST | 2022 | N |
| Dhambit Mununggurr | 2 | Telstra National Aboriginal & Torres Strait Islander Art Award | FINALIST | 2022 | Y |
| Dhambit Mununggurr | 2 | Wynne Prize | FINALIST | 2022 | Y |
| Cynthia Orr | 2 | Ravenswood Australian Women's Art Prize | FINALIST | 2022 | N |
| Cynthia Orr | 2 | Glover Prize | FINALIST | 2022 | N |
| Claus Strangl | 2 | Archibald Prize | WINNER | 2022 | N |
| Claus Strangl | 2 | Archibald Prize | FINALIST | 2022 | N |
| Charles Jangala Inkamala | 2 | Telstra National Aboriginal & Torres Strait Islander Art Award | FINALIST | 2022 | Y |
| Charles Jangala Inkamala | 2 | Alice Prize | FINALIST | 2022 | Y |
| Alexandra Hirst | 2 | John Villiers Outback Art Prize | FINALIST | 2022 | N |
| Alexandra Hirst | 2 | Waterhouse Natural Science Art Prize | FINALIST | 2022 | N |