Multi-finalists
First - here is the visualisation for artists selected in 6 or more finalists' exhibitions, followed by a visualisation of those finalists exhibited in 5 or more art prize exhibitions with the names of the exhibitions.
Please note - the list of prizes we used for this data is at the bottom of this window.
There are going to be art prizes which we can't find a list of finalists, so our data is unfortunately not exhaustive. We update the entire list of finalists rather than just individual artists.
A common question is how do we produce the visualisations - we use an application called Neo4j which is a graphDB.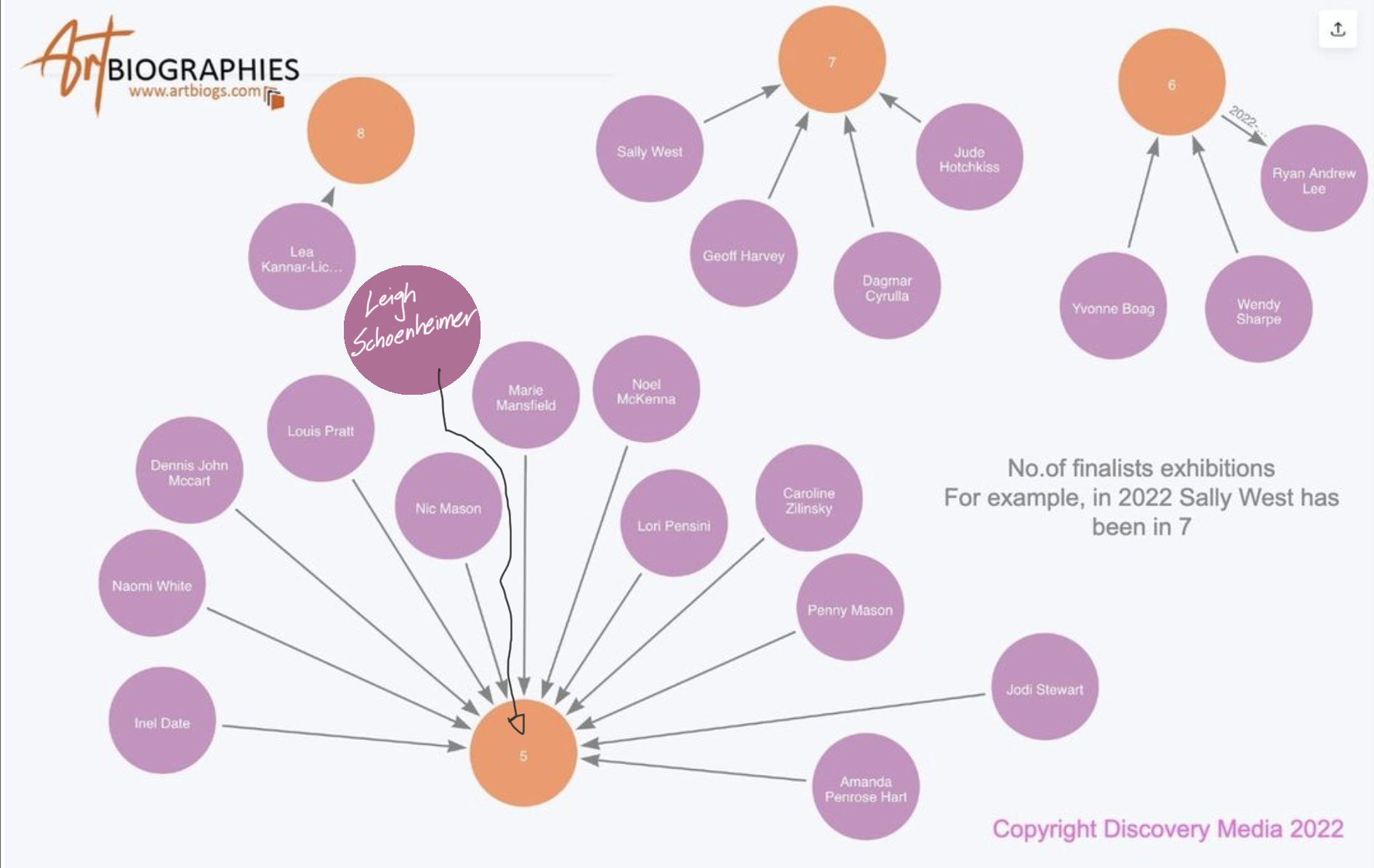 Prizes which have the most multi-finalists
Which prizes have the most multi-finalists who have been in 5 or more other finalist exhibitions this year? The Lethbridge 20k Prize had 19 finalists who have been in 4 or more other prize exhibitions this year. In other words, 19 finalists in the Lethbridge 20k were finalists in at least 4 other prizes in 2022. And 14 finalists in the Gosford Art Prize were finalists in 4 or more other prizes this year, and so on.
This means there are some prizes which happened to select artists that were also selected by a number of other prizes in the same year. It might also indicate that artists cluster around certain prizes like the Lethbridge and the Gosford/Portia Geach etc.
Here's the list as of 1 December 2022:
| | |
| --- | --- |
| Prize Name | Number of multi-finalists |
| Lethbridge 20,000 Small Scale Art Award | 19 |
| Gosford Art Prize | 14 |
| Portia Geach Memorial Award | 12 |
| Mosman Art Prize | 11 |
| Hornsby Art Prize | 11 |
| Lethbridge Landscape Prize | 11 |
| Percival Portrait Award | 11 |
| Calleen Art Award | 10 |
| Ravenswood Australian Women's Art Prize | 9 |
| Sunshine Coast Art Prize | 8 |
| Adelaide Perry Prize for Drawing | 8 |
| Muswellbrook Art Prize | 8 |
| Waverley Art Prize | 6 |
| Rick Amor Self Portrait Prize | 6 |
| Dobell Prize for Drawing | 5 |
| The Lester Prize | 5 |
| Jacaranda Acquisitive Drawing Award (JADA) | 5 |
| John Villiers Outback Art Prize | 5 |
| Archibald Prize | 5 |
| Clayton Utz Art Award | 5 |
| GreenWay Art Prize | 5 |
| Alice Prize | 4 |
| Gallipoli Art Prize | 4 |
| North Sydney Art Prize | 4 |
| Darling Portrait Prize | 4 |
| Kennedy Prize | 4 |
| Paddington Art Prize | 4 |
| Wyndham Art Prize | 4 |
| Paul Guest Prize | 3 |
| Sir John Sulman Prize | 3 |
| Blake Prize | 3 |
| Doug Moran National Portrait Prize | 3 |
| John Leslie Art Prize | 3 |
| National Emerging Art Prize | 3 |
| Kedumba Drawing Award | 2 |
| Wynne Prize | 2 |
| Incinerator Art Prize | 2 |
| Mandorla Art Prize | 2 |
| 9x5 Landscape Prize | 2 |
| North Queensland Ceramic Awards | 2 |
Prizes analysed for this data
| | |
| --- | --- |
| Title | Number of finalists recorded |
| 9x5 Landscape Prize | 89 |
| Adelaide Perry Prize for Drawing | 46 |
| Alice Prize | 62 |
| Archibald Prize | 53 |
| Basil Sellers Art Prize | 28 |
| Bayside Acquisitive Art Prize | 41 |
| Beechworth Contemporary Art Award | 10 |
| Blacktown City Art Prize | 72 |
| Blake Prize | 65 |
| Bluethumb Art Prize | 7 |
| Calleen Art Award | 50 |
| City of Joondalup Invitation Art Award | 31 |
| Clayton Utz Art Award | 42 |
| CLIP Award | 1 |
| Darling Portrait Prize | 39 |
| Deakin University Contemporary Small Sculpture Award | 41 |
| Dobell Prize for Drawing | 64 |
| Doug Moran National Portrait Prize | 31 |
| Fisher's Ghost Art Award | 2 |
| Gallipoli Art Prize | 30 |
| Geelong Contemporary Art Prize | 28 |
| Glover Prize | 42 |
| Gosford Art Prize | 133 |
| GreenWay Art Prize | 148 |
| Hadley's Art Prize | 35 |
| Heysen Sculpture Biennial | 22 |
| Heysen Prize for Landscape | |
| Hornsby Art Prize | 97 |
| Incinerator Art Prize | 33 |
| Jacaranda Acquisitive Drawing Award (JADA) | 57 |
| John Leslie Art Prize | 47 |
| John Villiers Outback Art Prize | 40 |
| Kedumba Drawing Award | 21 |
| Kennedy Prize | 48 |
| Koorie Art Show | 1 |
| Lethbridge 20,000 Small Scale Art Award | 231 |
| Lethbridge Landscape Prize | 80 |
| Mandorla Art Prize | 43 |
| Maritime Art Prize & Exhibition | 58 |
| Meroogal Women's Art Prize | 36 |
| Montalto Sculpture Prize | 24 |
| Mosman Art Prize | 90 |
| Muswellbrook Art Prize | 49 |
| National Emerging Art Prize | 77 |
| National Photographic Portrait Prize | 50 |
| North Queensland Ceramic Awards | 77 |
| North Sydney Art Prize | 118 |
| Paddington Art Prize | 52 |
| Paul Guest Prize | 40 |
| Percival Photographic Portrait Prize | 53 |
| Percival Portrait Award | 110 |
| Perth Royal Art Prize for Landscape | 60 |
| Portia Geach Memorial Award | 58 |
| Pro Hart Outback Art Prize | 31 |
| Ravenswood Australian Women's Art Prize | 108 |
| Redland Art Awards | 48 |
| Rick Amor Self Portrait Prize | 34 |
| Robert Jacks Drawing Prize | 1 |
| Sculpture in the Vineyards Wollombi Valley Sculpture Festival | 114 |
| Sculptures in the Garden | 1 |
| Sir John Sulman Prize | 31 |
| Sunshine Coast Art Prize | 40 |
| Swell Sculpture Festival | 90 |
| Telstra National Aboriginal & Torres Strait Islander Art Award | 104 |
| The Lester Prize | 39 |
| Tom Bass Prize for Figurative Sculpture | 37 |
| Tom Malone Prize | 15 |
| Toorak Village Sculpture Exhibition | 1 |
| Waterhouse Natural Science Art Prize | 72 |
| Waverley Art Prize | 60 |
| William and Winifred Bowness Photography Prize | 52 |
| Wyndham Art Prize | 80 |
| Wynne Prize | 38 |