Applications close
31 August 2020
Announced
30 September 2020
Prize money
EUR €1,000
Location
Ireland
Will you enter this prize?
This is an anonymous survey
I will enter this prize
Undo
3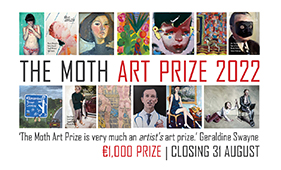 ABOUT THE PRIZE "It feels pretty rare to be acknowledged for what I can paint, rather than what statement I can write," said last year's winner, British artist Geraldine Swayne. "The Moth Art Prize is very much an artist's art prize." The Moth Art Prize is for a body of figurative or representational work (images of which can be sent electronically). The Prize is open to anyone over the age of 16 from anywhere in the world. The prize consists of €1,000 plus a two-week stay at The Moth Retreat in rural Ireland.
Previous winners are: David Piddock (UK), Bradley Wood (Canada), Gregory Mortenson (USA).
HOW TO ENTER
To enter, please submit a portfolio of images of 5–10 works – to include figurative or representational paintings, drawings (including mixed media) and original prints – to mothartprize@themothmagazine.com. The following details should be included: your name, telephone number, number of images included and method of payment. You can also submit your entry (along with an entry form) by post to: The Moth, Ardan Grange, Milltown, Belturbet, Co. Cavan, Ireland Images cannot be returned. Please read the rules before you submit your work. Entry fee is €20 per portfolio. Payment should be made via PayPal to mothartprize@themothmagazine.com.
Or you can send a cheque (euro/sterling/dollars) or bank draft to 'The Moth Magazine Ltd' to the address above The Prize will be judged anonymously by the publishers of The Moth. Closing date 30 August 2019
A FEW THINGS TO NOTE There is no onus on the artist to produce a body of work while staying at The Moth. We want it to be a place to rejuvenate and be inspired. The winner chooses when they would like to stay at The Moth (depending on availability, and within 12 months of winning). The winner will be entitled to the prize money whether they choose to take up the residency or not.
For more details email mothartprize@themothmagazine.com or call 00 353 872657251
Summary
Application dates
29 April 2020 - 31 August 2020
Exhibition dates

Finalists notified
21 September 2020
Eligibility
National and International Entries Allowed
Prize frequency
Annual
Judges
Moth Arts Editor
Prize genre
2D works
Location
The Moth Magazine
Ireland
Prizes
EUR €1,000
Fees
20 Euros
Last updated
2 April 2020
Prior Winners
No prize winners information available