Applications close
10 May 2021
Announced
27 August 2021
Prize money
AUD $30,000
Location
QLD, Australia
Will you enter this prize?
This is an anonymous survey
I will enter this prize
Undo
15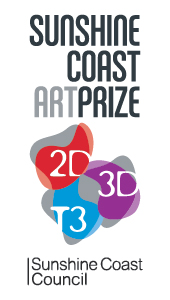 The Sunshine Coast Art Prize 2019 is a national contemporary acquisitive award presented by Sunshine Coast Council. The Award is open to any artist who is an Australian resident, working in a 2D medium. Finalist will be selected for exhibition at the Caloundra Regional Gallery and the winning work will be added to the Sunshine Coast Art Collection.
Pre-selection:
The pre-selection panel will invite the final 40 artists to exhibit one work in the SCAP 2D exhibition.
Prizes
Venue: Caloundra Regional Art Gallery, 22 Omrah Avenue, Caloundra, Queensland.
Contact: by phone on 07 5420 8292 or email: artgallery@caloundra.qld.gov.au.
Summary
Application dates
22 February 2021 - 10 May 2021
Exhibition dates
27 August 2021 - 10 October 2021
Finalists notified
15 June 2021
Eligibility
National Entries
Prize frequency
Annual
Judges
TBA
Prize genre
2D works
Location
Caloundra Regional Art Gallery, 22 Omrah Avenue, Caloundra, Queensland.
QLD
Australia
Prizes
AUD $30,000
Fees
Entry is free in 2020
Last updated
29 January 2021
Prior Winners
2020: Christine Druitt-Preston - People's Choice ($2,500)
2020: Natalya Hughes - Winner ($25,000)
2019: Diena Georgettin - Winner ($25,000)
2018: Madeleine Kelly - Winner ($25,000)
2017: Raquel Ormella - Winner ($25,000)
2016: Jandamarra Cadd - People's Choice ($2,500)
2016: Michael Cook - Winner ($25,000)
2015: Erika Gofton - People's Choice
2015: Robert Fenton - Winner ($15,000)
2014: Matthew de Moiser - Winner ($15,000)
2013: Celeste Chandler - Winner ($15,000)
2011: Margaret Loy Pula - Winner ($15,000)