Applications close
31 August 2021
Announced
13 August 2021
Prize money
AUD $30,000
Location
NSW, Australia
Will you enter this prize?
This is an anonymous survey
I will enter this prize
Undo
27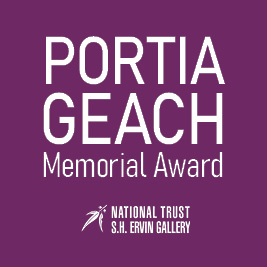 The S.H. Ervin Gallery is calling for entries for Australia's most famed portraiture prize for women, the Portia Geach Memorial Award.
Applicants must be a female Australian resident who is either Australian born, British born or a naturalised Australian.
The Portia Geach Memorial Award, first awarded in 1965, was established by Florence Kate Geach in memory of her sister, artist Portia Geach. The non-acquisitive award of $30,000 is awarded by the Trustee for the entry which is of the highest artistic merit, '...for the best portrait painted from life of some man or woman distinguished in Art, Letters, or the Sciences by any female artist resident in Australia during the twelve months preceding the close date for entries.'
Prizes:
Winner - $30,000
People's Choice Award - $1,000
Venue: S.H.Ervin Gallery, Watson Road, Observatory Hill, The Rocks, Sydney
Contact:  For more information email shervingallery@nationaltrust.com.au
Summary
Application dates
12 April 2021 - 31 August 2021
Exhibition dates
14 October 2021 - 28 November 2021
Finalists notified
20 September 2021
Eligibility
National Entries
Prize frequency
Annual
Judges
TBA
Prize genre
Portraiture
Location
S.H.Ervin Gallery, Watson Road, Observatory Hill, The Rocks, Sydney
NSW
Australia
Prizes
AUD $30,000
Fees
$50 per entry and there is a 33% commission charted on all works sold during the exhibition.
Last updated
22 April 2021
Prior Winners
2020: Caroline Zilinsky - Winner ($30,000)
2019: Sally Robinson - Winner ($30,000)
2018: Zoe Young - Winner ($30,000)
2017: Amanda Davies - Winner ($30,000)
2016: Jenny Rodgerson - Winner ($30,000)
2015: Natasha Bieniek - Winner ($30,000)
2014: Sophie Cape - Winner ($30,000)
2012: Sally Robinson - Winner ($18.000)
2011: Kate Stevens - Winner ($17,000)