Applications close
14 July 2019
Announced
6 October 2019
Prize money
EUR €7,000
Location
Italy
Will you enter this prize?
This is an anonymous survey
I will enter this prize
Undo
6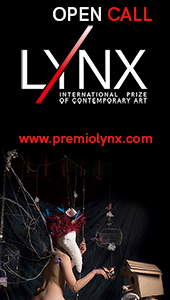 Learn more about the Lynx Prize - watch our interview.
The Associazione Culturale IL SESTANTE located in Trieste (Italy) announces the LYNX Prize 2019 dedicated to artists. The aim is to promote and endorse Contemporary Art catching the audience attention thanks to the high quality and the international experiences of the attending artists.
70 artworks will be shortlisted across the following 4 categories: • Painting • Photography • Digital Art • Graphic Art
The competition is open to artists of all nations and there are no age limits; the subject is free. In all sections the dimensional limitations, inclusive of all, are 150x190 cm (base x height). Polyptych is considered as "unique work", so its total size must comply with the above measures.
Key selection criteria will be the research, the quality and the originality of the works (previously published artworks can be submitted as well).
Prizes:
Painting Prize -  € 4.000,00
Photography Prize - € 1.500,00
Digital Art - € 500,00
Graphic Art - € 1.000,00
Venues: "Tivarnella Art Consulting Gallery" Trieste (Italy), "Lokarjeva Galerija" Aidussina (Slovenia), "Museo MIIT" Turin (Italy).
Summary
Application dates
1 March 2019 - 14 July 2019
Exhibition dates
06 October 2019 - 14 December 2019
Finalists notified
4 August 2019
Eligibility
National and International Entries Allowed
Prize frequency
Biennial - Odd Years
Judges
The selection of the submitted artworks will be made by a judging panel consisting of 12 expert members.
Prize genre
General
Location
Tivarnella Art Consulting Gallery, via Tivarnella, 5 - Trieste, Trieste, Italy
Italy
Prizes
EUR €7,000
Fees
It is possible to participate in more than one section by paying the fee of € 60, with the possibility of entering up to 10 works by paying only the fee of € 160..
Last updated
30 June 2019
Prior Winners
No prize winners information available