Applications close
22 May 2020
Announced
1 June 2020
Prize money
AUD $2,400
Location
Australia
Will you enter this prize?
This is an anonymous survey
I will enter this prize
Undo
1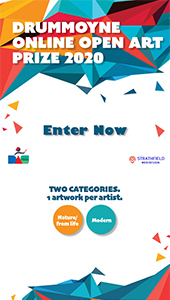 Drummoyne Art Society is hosting an online open art prize, with a prize pool worth $2,400, open to all Australian artists. A chance to win 1 of 4 cash awards. 30 finalists, including People's Choice all receiving award certificates.
Our art society, like many other art groups and independent artist, have been thrown into an unprecedented turmoil with the COVID19 epidemic. Not only life as we know it has changed.
The loss of income, social mobility, health fears and most importantly - the confidence in what we do... art! The Drummoyne Art Society and its Committee - having had to cancel its Annual Art Awards Exhibition this year, art classes, workshops and many other activities, decided to create a new event: the 'Drummoyne Online Art Prize' to help members and non members to continue creating.
This event will provide an alternative for artists to show their works in an online environment, win awards and make some money. To enter this online art prize please head to our our website. First, download and read the terms and conditions and when you are ready, submit your artwork image with your details. Entries closed 22nd May, 2020 - 11.59pm (AEST).
Summary
Application dates
10 April 2020 - 22 May 2020
Exhibition dates
02 June 2020 - 30 June 2020
Finalists notified
1 June 2020
Eligibility
National Entries
Prize frequency
One-Off
Judges
To be confirmed after entry close date.
Prize genre
2D works
Location
Australia
Prizes
AUD $2,400
Fees
$20.00 entry fee 1 artwork only. 20% commission on any artwork sale
Last updated
27 April 2020
Prior Winners
No prize winners information available