Applications close
21 July 2023
Announced
7 October 2023
Prize money
AUD $25,000
Location
NSW, Australia
Will you enter this prize?
This is an anonymous survey
I will enter this prize
Undo
11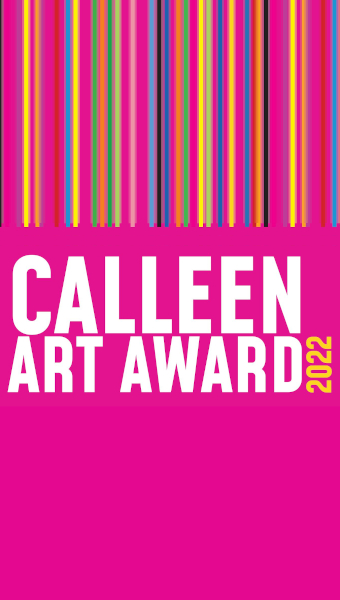 2023 - 278 entries and 57 finalists
2022 - 321 entries and 51 finalists
2021: 407 entries and 46 paintings (by 46 artists Australia wide) were selected as finalists.
The Calleen Art Award
The Calleen Art Award is a nationally recognised annual acquisitive award for an original artwork in any painting medium including oils, acrylic, watercolour or collage/mixed media (only if paint remains the dominant medium). The Calleen Art Award is open to artists living and working in Australia and is made possible by the generous support of the Calleen Trust.

Prizes
Calleen Art Award (acquisitive) - $25,000
People's Choice Award - $1000

Contact: For more information call 02 6340 2190, email cowraartgallery@cowra.nsw.gov.au or visit www.calleenartaward.com.au

Venue: Cowra Regional Art Gallery, 77 Darling Street Cowra NSW 2794
Summary
Application dates
15 May 2023 - 21 July 2023
Exhibition dates
8 October 2023 - 19 November 2023
Finalists notified
22 August 2023
Eligibility
National Entries
Prize frequency
Annual
Judges
TBA
Prize genre
General
Location
Cowra Regional Art Gallery, Cowra, NSW
NSW
Australia
Prizes
AUD $25,000
Fees
There is an entry fee of $40 per work, to a maximum of 3. There is a commission of 30% on works sold.
Last updated
1 September 2023
Prior Winners
2022: Derek O'Connor - Winner ($25,000)
2021: Rachel Ellis - Winner ($25,000)
2020: Zoe Young - Winner ($20,000)
2019: Wendy Sharpe - Winner ($20,000)
2018: Brian Robinson - Winner ($20,000)
2017: Zai Kuang - Winner ($19,000)
2016: Tania Mason - Winner ($19,000)
2015: Yvonne Boag - Winner ($19,000)
2014: Naomi White - Winner ($18,000)
2013: Gladdy Kemarre - Winner ($17,000)
2013: Jo Bertini - Winner of the Regional Art Award ($2,000)