Applications close
14 March 2016
Announced
26 April 2016
Prize money
AUD $4,000
Location
VIC, Australia
Will you enter this prize?
This is an anonymous survey
I will enter this prize
Undo
0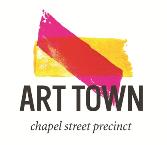 Celebrating the diversity of this vibrant precinct, artists will be located throughout the area - from Chapel Street North and Yarra Lane, through South Yarra's Fashion Precinct, Prahran Market, Chapel off Chapel and Prahran Skate Park, Greville Street and Grattan Gardens, and down through Chapel Street Windsor, and the new Windsor Plaza. Visitors can delight in the discovery of artists on the pavements, perched in the street, found down laneways or spied in shop-front windows, each creating artwork that responds to what they see around them.
This is a unique opportunity for artists to respond to the life and rhythms of the precinct – being out in the open and seeing first-hand how the precinct evolves over the day. ART-Town fosters an environment that celebrates creativity and cultural experiences and the creation of unexpected moments of beauty, amusement, reflection or intrigue.
Prizes
1st Prize - $5,000
Contact: For more information email admin@chapelstreet.com.au
Venue: Chapel Off Chapel, 12 little Chapel Street, Prahran VIC 3181
Summary
Applications close
14 March 2016
Exhibition dates
26 April - 14 May 2016
Finalists notified
26 April 2016
Eligibility
National and International Entries Allowed
Prize frequency
Annual
Judges
TBC
Prize genre
General
Location
Chapel Off Chapel, 12 little Chapel Street, Prahran VIC 3181
VIC
Australia
Prizes
AUD $4,000
Fees
none
Last updated
3 January 2016
Prior Winners
No prize winners information available