Applications close
4 January 2022
Announced
19 February 2022
Prize money
AUD $11,000
Location
Australia
Will you enter this prize?
This is an anonymous survey
I will enter this prize
Undo
5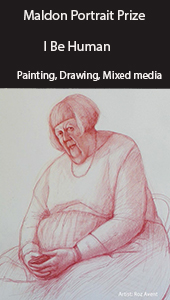 The Maldon Portrait - I Be Human Prize this year, incorporates both the Painting/drawing Prize, and a Photographic Prize, with a first prize prize money of $5000 each - plus an online peoples choice prize of $500 each. The exhibitions are shown separately with the photographic following second, Full details are on the website.
Summary
Application dates
15 August 2021 - 4 January 2022
Exhibition dates
05 February 2022 - 27 February 2022
Finalists notified
17 January 2022
Eligibility
National Entries
Prize frequency
Biennial - Even Years
Judges
TBA
Prize genre
Portraiture
Location
Australia
Prizes
AUD $11,000
Fees
35.00
Last updated
2 October 2021
Prior Winners
No prize winners information available