Applications close
26 November 2020
Announced
28 October 2020
Prize money
EUR €5,000
Location
Italy
Will you enter this prize?
This is an anonymous survey
I will enter this prize
Undo
8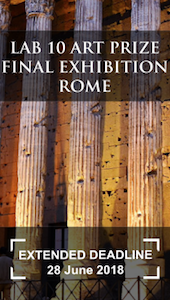 Lab.17 art contest, is a call for submissions open to all kind of artists. Works allowed in the art competition are: drawings, paintings, sculptures, photographs, graphics, mix media and video.
A great opportunity for the artists, which can win a cash prize, have the opportunity to exhibit the artworks and much more. PRIZES: 5000,00€ - collaboration award for a new Malamegi collection - artwork acquisition award - cash prize - monographic book prize
The following types of works are admitted: Painting, Sculpture, Photography, Mixed media, Digital, Video, Graphics, Net art, other (all visual works that can be reproduced through a picture are allowed).
The contest is addressed to professional and amateur artists, graphic designers, painters, photographers, etc. from all over the world. Deadline : NOVEMBER 26, 2020 You can find all the information about the contest on the official website: www.lab.malamegi.com Malamegi Lab17 - FINAL EXHIBITION HERNANDEZ ART GALLERY Via Copernico 8 - Milan - Italy www.galleriahernandez.com
Summary
Application dates
1 October 2020 - 26 November 2020
Exhibition dates
30 January 2021 - 13 February 2021
Finalists notified
16 December 2020
Eligibility
National and International Entries Allowed
Prize frequency
Annual
Judges
Malamegi Lab's staff
Prize genre
3D works
Location
Hernandez Art Gallery, Venice`
Italy
Prizes
EUR €5,000
Fees
45€
Last updated
29 October 2020
Prior Winners
No prize winners information available